Press | This entry was posted on 2011-12-15
900 FillBoards™ – advertisements on pump nozzles – shorten waiting time at the pumps

Approximately 900 FillBoards™ from Alvern Media, the Ambient Media specialists, are creating a wonderful wintertime mood and thus 'shortening' waiting times at 45 SCORE petrol stations in Germany over November and December. Using a snowy ad and the claim "Winterfest?" (All set for the winter?) or a picture of some punch with a cinnamon stick and the line "Es weihnachtet" (Christmas is on the way), SCORE-Tankstellen und Mineralöllhandels-GmbH are appealing to their customers right at the POS.
Marion Klug-Meyer, SCORE-Tankstellen and Mineralölhandels-GmbH, says:
Our winter slogans are meant to raise the drivers' attention to the present road conditions plus create a Christmassy mood. Our petrol stations and the ads on the gas nozzles are the best places to appeal to our target group. Apart from that it makes the waiting time while filling tanks go faster.
Sven Wucherpfennig, Managing Partner Alvern Media GmbH, states:
Advertising at petrol stations is a versatile tool. Not only do various brand names successfully use FillBoards™, even petrol station operators themselves are using this ideal advertising environment to create a dialogue with their customers and for more service at the pumps.
40 million drivers in Germany make regular stops at petrol stations. At an overall number of 160 million fill-ups this type of advertising reaches every second German citizen at an average of four times per month.
see also the original article at PetrolPlaza.com

Preview: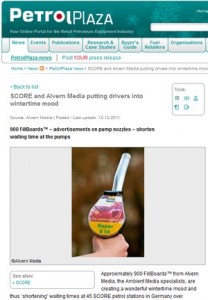 Alvern Media GmbH
Alvern has been an established provider of innovative advertising at petrol stations since 1997.
Alvern Media GmbH has patented the Fillboard™ advertisements on petrol pumps as an outdoor medium in 43 countries all across Europe. Moreover, they introduced DoorMedia™ (door graphics) in Germany.
Alvern has a portfolio of more than 240,000 advertisement spaces on the German and Austrian markets; this number increases to 560,000 when counting the total number of advertising spaces in all of Europe.
More than 9,500 German petrol stations have been supplied with FillBoards™. This equals 76 percent of the pump volume. Also, approximately 2,000 stations operated by different oil companies can be supplied with DoorMedia™.
Alvern is a member of the Ambient Media trade association. Following an independent assessment, the Ambient Media specialists were once again awarded the FAM Seal of Quality in 2012. More on Alvern Media can be found at www.alvern.de